The T7 Over The Ear Headset from Invisio
Invisio's new T7 over the ear headset features 3D ergonomic ear cushions, 28dB of SNR hearing protection and submersion to 10 meters, including hear-thru microphone drainage for immediate use after leaving the water.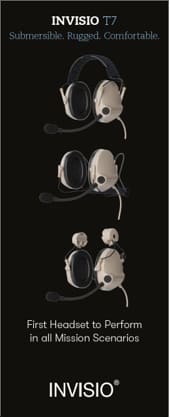 The speaker system includes a waterproof speaker membrane that can withstand high water pressure, a breathable membrane that allows air to be released and a secondary membrane that allows the speaker membrane to operate by releasing audio pressure for high audio performance.
In addition to surviving the pressure of 10 meters underwater, the T7 is also operational at over 40,000 feet.
The hear-thru microphone resists wind noise and has been tested for use while transiting in a Rigid Inflatable Boat going 50 knots (90 kph).
The 3D ear cushions were designed after reviewing 1,000 MRI cranial scans to find the most common ear and head shape. There are also gel and standard ear cushions.
The T7 can be configured three ways for wear: traditional over the headband style, behind the head via the neckband and helmet mount.
www.invisio.com/communication-systems/headsets/invisio-t7
You can skip to the end and leave a response. Pinging is currently not allowed.
Credit: Source link